Tight black matte wetlook jeans with decorative black PVC buckles on the outside legs. The classic cut jeans features a...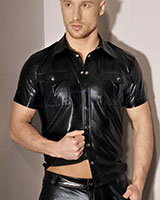 A real basic: Tightly cut short-sleeved black wet look shirt with two breast pockets, collar and a snap fastener at the...
Perfect fit men's black wet look trousers with front zipper, waistband and decorative black PVC appliqués. Material:...